A little about this collecting bug.
I've been a collector all my life.
My mother tells me that if she ever needed to keep me occupied, she simply had to hand me a brown lunch bag and tell me to go find some "treasures". I would then spend the next hour searching the house for trinkets, then line them up along the edge of the sofa, and inspect each one individually. Over the years I've collected matchbook covers, baseball cards, beer cans, coins, old fans, comic books, car magazines, wooden ducks, and probably a few more I've forgotten. But throughout the years, the one constant has always been Philately.
For me, collecting always meant the thrill of the hunt. This has led me to collect some pretty esoteric stuff. Postage stamps are just the tip of the iceberg, especially if you collect US. Check out a Scott Specialized catalog; you will find Locals, Christmas Seals, Proofs, Ducks, Officials, Post Office Seals, Telegraphs, CSA, Possessions… and lots ands lots of Revenue stamps. Which leads me to Match and Medicine stamps, fascinating Private Die Proprietary issues which were a cross between gov't issued stamps, advertising and packaging.
A few years ago I discovered that there were very few M&M album pages available. None had pictures. And none certainly struck me as being well designed. So I began the tedious process of laying out these pages for my collection, finding the best built binders available, and securing the finest on-demand printing. Same with this website. Rarely will you find a stamp store site with hi-res images, both front and back, along with condition details and specs. A little extra attention to detail will hopefully make your visit here a satisfying one. And if you have any questions please don't hesitate to email me HERE. Even if you are not here to shop, I hope you enjoy the stories, specs, colorful images and characters you find here. Optimistically, Randall Chet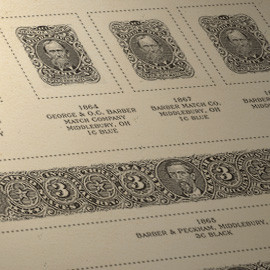 Unfortunately, as every collector knows, supplies can be a major drain on a budget. Albums, mounts and pages seem to go up in price each year, regardless of the performance of stamps themselves. And what to do about pages that aren't readily available, or aren't exactly what you had in mind design-wise? Fortunately, my day job is graphic designer, so for the past couple of years I've been developing a print-on-demand album system for my own collection.