I just wanted to take the time to wish everybody Happy Holidays and to spill the beans about some upcoming additions to the site. I've been pretty busy in the last couple of weeks adding items to the store. Please take a look — there may be some you've been looking for.
One of my goals for the site is not only offering stamps for sale, but doing it in a way that is educational, offering tidbits of history and research. There are clear scans of much higher resolution than you usually find, not only of the front, but also the back of the items. This site is fully responsive, so bookmark it on your phone or tablet too. All this takes time but I think it's worth it, hopefully you'll agree.
Here are some things I have in the works:
Specialized U.S. Revenue Pages
I've just completed the 12″ x 12″ specialized album pages for U.S. first through third issue revenues. Take a look at my $2.50 first issue page up above. I created these pages for my personal collection, as I wanted spaces for the various paper and shade varieties. Each page is contains spaces for varieties of a single revenue stamp, based on the listings in the U.S. Scott Specialized catalog and the "Boston Book" of 1899. Each revenue design is centrally featured on the page, and there are spaces for thin, medium, thick and silk papers, color varieties, and imperforate, part-perforate and perforated varieties as the case may be. I'll be adding these pages to the store within the month. These will only be produced in the 12″ x 12″ size for the time being. These pages are without Scott numbers and there is a total of 108 pages. Future plans include Scott sized pages, and plate varieties pages.
Geo. Carter style Match & Medicine Pages
George Carter was born in 1864 and made his residence in New York City since 1887. He was a printer by trade and was the founder of the N. Y. Printer's Supply Salesman's Guild. As a printer he must have been attracted by the beauty of US revenue stamps and  he began to trade in them. For a period he published Carter's Messenger -"Issued occasionally- In the Interest of Stamp Collecting in General & Revenues, Match and Medicine Stamps in Particular" as he proclaimed in the masthead. Naturally he needed an album to house the M&Ms he was selling; thus the "Carter album" with which newer Revenuers may not be acquainted, was born.
The album was somewhat curious by present standards. Instead of the usual taller rather than wider format, the Carter album was the reverse and the pages were approximately 11.5″ x 9″ inches. The pages appear somewhat quaint, not only because of the horizontal arrangement but also because of the partial illustrations Carter afforded thecollector. Regulations of the time somewhat incomprehensibly, forbade illustration of even obsolete U. S. revenues, so Carter resorted to use of crude partial sketches, though not all spaces were illustrated.
The catalog was touted as "the most complete ever issued – gives most minute details as to every variety of paper in the Match & Medicines–etc. etc." Testimonials were forthcoming from such stalwart collectors of U. S. revenues as Clarence Eagle, Hiram Deats, George Hetrich and others. Perhaps in later years these testimonials were to convince Donald Mull, in Boston, who acquired the plates, to reprint the album in the 1940's.
My goal is to recreate this relic of Match & Medicine collecting, updating it to a more usable three-ring album design (the originals were hardbound). Below is a sample page. Look for this to be added in 2018.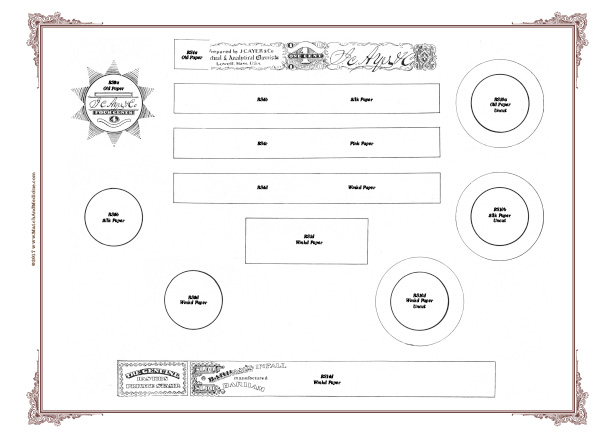 Match and Medicine album for all paper varieties
Right now the Match and Medicine album pages are for FACE DIFFERENT stamps. Album pages with spaces for all paper varieties (old, silk, pink, watermarked, experimental silk) are in the works. This is quite an undertaking and look for these mid 2019. Page count will most likely be 150 to 175 and comprise two volumes. I'll keep you up to date on these projects. Feel free to email me!